<![if !supportEmptyParas]> <![endif]>
<![if !supportEmptyParas]> <![endif]>
EQUIPMENT <![if !supportEmptyParas]>
Telescope's (click the pictures for more info)
Skywatcher 200mm, f/5 Reflector

ORION ED80 Apochromatic Refractor f/7.5

70mm Refractor, f/5

Skywatcher 120mm (4.75") Refractor f/5 (

SOLD

)

• Mounted on HEQ5 with Synscan
• Objective Lens Diameter: 200mm

• Highest Practical Power (Potential): x240
• Objective Lens Diameter: 80mm
• Telescope Focal Length: 600mm (f/7.5)
• Dual-Fit 1.25"/2" Crawford Focuser


• Highest Practical Power (Potential): x160
• Objective Lens Diameter: 70mm

• Magnifications (with optics supplied): x24, x48, x60, x120
• Highest Practical Power (Potential): x240
• Objective Lens Diameter: 120mm
• Telescope Focal Length: 600mm (f/5)
• Multi-Coated Objective Lens
Viewing Site
This is the location in my garden where I do all my viewing and imaging from. I have positioned slabs for the tripod feet and drilled holes to have an accurate position every time I set up the mount.
My Autoguiding setup
After quite a few problems initially i think i have finally got together a full autoguiding setup. Instead of using my desktop PC i can now guide with my laptop which makes it a lot easier to setup.
Equipment:
Laptop - Dell Inspiron 1000 (Celeron 2.2ghz, 448mb RAM, 40 gig HD) Only USB, no parallel port
Mount - HEQ5 Synscan
Guidecamera - Toucam Pro 2
Guidescope - 70mm f/5 refractor
Main imaging camera - Canon EOS 350D
Main imaging scope - 200mm Reflector / Orion 80ED
Beklin Serial to USB adaptor (used for long exposure shutter cable on 350D)
Shoestring GPUSB Guideport Adaptor (plugs in by USB and connects to autoguiding port on HEQ5)
The image below shows some of the equipment....
...........and here is a detailed description of the amount of work it takes to capture long exposure images.
1. Position HEQ5 mount tripod legs on concrete slabs, telescope is attached already, unless it's the 8" Newtonian.

2. Check location of Polaris through polar scope, generally I don't polar align as I carry out a drift alignment instead.

3. Bring out cables, Laptop, additional accessories.

4. Connect cables to laptop:
– Toucam Pro 2
– GPUSB Box
– Cable from GPUSB Box to mount autoguiding port.
– Serial adaptor (converts a USB port to serial for use with the long exposure cable)

5. Load up K3CCD and drift align in the South then East directions (repeat if necessary)

6. Align mount on 2 stars (Synscan Goto)

7. Locate object to be imaged using Goto on mount, make sure its tracking at sidereal rate. The difficult part of this task is making sure the faint object is in frame. If you can see it through the telescope it should appear on the CCD chip.

8. Connect the Camera (350D in my case) to the laptop serial port or adaptor and plug in the USB cable. Do not turn the camera on at this point as I have found this can cause adverse effects.

9. Load up your DSLR capturing software and then turn on the camera.
10. Carry out some short exposures to achieve focus, then a longer
exposure of around 15-30 seconds at a high ISO to see if the framing of the object is ok. Note, you don't need to do a long exposure yet.

11. Capture your flat frames and dark flats (I don't have much experience in this section so I have only captured a few, but I suppose more is always better)

12. Once framed and focused, try and locate a bright star using an eyepiece in your guidescope and once you have located this, adjusted the guide scope rings to centre the star and attach your webcam. I use an unmodded Toucam Pro 2 and a f/5 70mm guide scope which seems to work quite well.

13. Focus the star on the laptop and make sure the star follows the East, West direction correctly ie parallel with K3CCD's red crosshair.

14. Load up PHD Guiding and carryout the calibration process.

15. At this point once PHD is guiding try a one minute exposure with your main camera to make sure things are not trailing.

16. Once your happy with this make sure to change the camera settings to RAW and cover the cameras view finder (350D) with the rubber attachment.

17. Setup your exposure times and amount to of frames to capture, re-check the camera settings, ISO, mirror lock and click start.
MPCC & 2" Eyepiece adaptor modification
Super Plossl eyepiece
| | | |
| --- | --- | --- |
| | | |
| 2x barlow, 10mm, 25mm, 6mm and 32mm | | 4x Imagemate |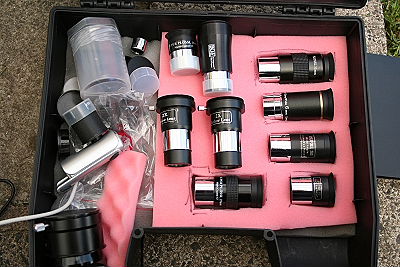 Filters
| | | |
| --- | --- | --- |
| | | |
| Four colour filter set | | Light pollution filter |
Camera's
| | | | | | |
| --- | --- | --- | --- | --- | --- |
| | | | | | |
| Canon EOS 350D | | Canon Powershot A60 | | Toucam Pro 2 with IR filter | |
Books
Uranometria Star Atlas
Nortons Star Atlas
Atlas of the Moon - By Antonín Rükl
The Modern Moon, A Personal View - By Charles A. Wood
The Messier Objects
The Caldwell Objects
Deepsky Wonders
The Celestial Handbook Vol 1 - 3
Astronomy Now - magazines
Sky & Telescope - magazines
Astronomy - magazines
<![if !supportEmptyParas]> <![endif]> <![if !supportEmptyParas]> <![endif]>